Capture Online Video & Audio
Schedule Recordings
Pick from 20,000+ Shows
Capture YouTube™ Videos
Capture Windows Media™ Clips
Capture Real Media™ Clips
Record Sirius™ and XM™
Download Podcasts
Download Podcasts and Record Radio Shows
(And a whole lot more.)
Replay A/V is a great way to capture Podcasts, and also record broadcast Radio Shows. And it's incredibly easy to use!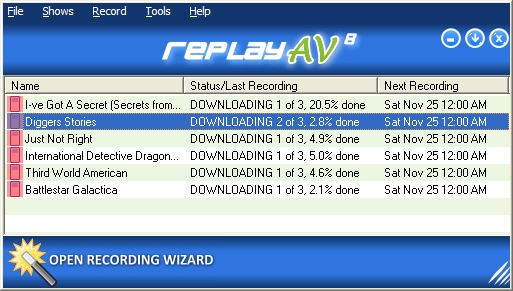 Replay A/V comes with an integrated Media Guide, which lists over 20,000 radio shows and Podcasts. Simply pick the Podcast or radio show from the guide, and it's automatically scheduled for recording at your convenience.
Replay A/V can do some handy tricks with Podcasts and radio shows, including:
Convert recordings into iPod Audiobook format. When you stop listening, the iPod or iTunes sets a "bookmark" so you can return to the same place in the recorded show.
Bittorrent Podcasts are supported.
Comes with Replay Converter free, so you can convert your recordings to other audio and video formats.
Tutorial: Learn how to download Podcasts with Replay A/V, step by step.

Replay A/V is a Complete Audio and Video Recording System
Replay A/V can record more than just Podcasts. You can capture Web Video clips (like YouTube, Google Video, Myspace) , Internet TV Stations, Internet Radio Stations, Sirius™ and XM Radio™, iTunes ™ radio stations, Webcams, radios and other devices attached to your PC, and more. The built-in scheduler and Media Guide open up a world of new media waiting for you to enjoy.
Replay AV How-To Videos
Replay A/V Solutions
Here are some cool things you can do with Replay A/V:
More Information
Get quick answers from these links:
How to Order
FREE Bonus Software
When you purchase Replay A/V, you also get:
| | |
| --- | --- |
| | Replay Converter: A full fledged video and audio file converter. Convert video and audio files to 36 different formats. Just choose your files, pick the desired output format and go. Replay Converter is fast and easy to use. |
| | Replay Player: This handy add-on makes listening to recorded radio shows on your PC a joy. Pause, skip over ads, fast forward and rewind, or speed up playback. Incredibly handy! |
Windows 7, Vista, XP, 2000

High-speed Internet Connection recommended.

MP3 Player or CD Burner recommended but not required

All Applian recording products are designed for the Microsoft Windows operating system. Install Parallels and Windows on your Mac if you'd like to run Windows software. All Applian recording products work in Windows on a Mac.




Read the User Guide or FAQ
We stand behind all of our software with a comprehensive User Guide and great customer service.
Got Questions?
Did we mention we have great customer service? Visit the support area to contact us.