Capture Online Video & Audio
Schedule Recordings
Pick from 20,000+ Shows
Capture YouTube™ Videos
Capture Windows Media™ Clips
Capture Real Media™ Clips
Record Sirius™ and XM™
Download Podcasts
Record, Schedule and Convert All Kinds of Streaming Video and Audio
Works great with abc.net.au
Capture Online Video Clips
Schedule and Record Radio Shows and Stations
Find Radio, TV & Podcasts with the Integrated Media Guide
Convert to 36 Popular Output formats
Record Internet TV Stations
Turn Audiobooks into MP3 Files
Record XM™ and Sirius™ Online feeds
Download and Convert Podcasts and Video Blogs
Record from Webcams or audio devices attached to your PC
Record, Convert and Copy to iPod automatically
Easy to use
Free Trial
No Spyware. No Viruses. 100% Guaranteed.


New Feature!! Applian Media Courier powered by YouSendIt. Send recorded files to yourself automatically.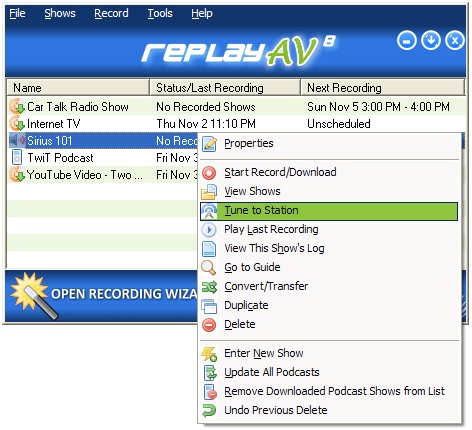 The Most Advanced Recording Technology
Replay A/V is the only software that combines Stream Capture, Audio Recording and an Enhanced Podcast Client in one easy-to-use interface.
Stream Capture lets you save the bits and bytes of streaming audio and video directly from the internet. Replay A/V is the only software that supports Windows Media™, Real™, Flash™, QuickTime™ and Shoutcast™ streams. The benefits of this technology are enormous - you can capture multiple streams simultaneously (10 or more is doable with most broadband connections), and you get perfect reproduction at the smallest possible size. Plus, unlike other audio capture programs, no background noises creep into your recordings, and the sound card remains free for normal use. Replay A/V also converts captured audio to MP3, WAV or iPod Audiobook files.
Audio Recording captures anything you can hear on your PC, and saves it to MP3 or other popular formats. This means that you can capture any format, even ones that haven't been invented yet. And it's great for making personal copies of Audio Books or other content. You can record XM Radio and Sirius using this method, too. Special output options like Eliminate Dead Air and Compressed Speech make Audio Recording even more useful.
The Enhanced Podcast Client built into Replay A/V gives you extra capabilities the big guys can't do. Any Podcast can be converted to a bookmarkable file on your iPod (so you can return to the place you were last listening). BitTorrent Podcasts are supported. You can download individual episodes with one click. There's a lot more, too.
Replay A/V is Really Easy To Use
It's easy to capture video clips or audio archives. Just choose Record, Stream Capture from the menu, play your clip, and record it now or later.
This version of Replay AV includes the new Applian Media Courier powered by YouSendIt which automatically sends your recordings to you via e-mail. Thanks to this new feature you now don't have to wait to hear all your favorite recordings - you can set up Replay AV to send them to you as soon as the recording is over! You great is that!
Setting up scheduled recordings from online radio and tv stations is very simple: Simply open the Media Guide within Replay A/V, pick your show, station or Podcast, and it's automatically scheduled for recording. There's a lot to choose from - the Integrated Replay Media Guide contains thousands of Radio Shows, Radio Stations, Podcasts, and Online TV stations. You can also use the URL Finder to locate stations not listed in the guide.
Replay AV How-To Videos
Replay A/V Solutions
Here are some cool things you can do with Replay A/V:
More Information
Get quick answers from these links:
How to Order
FREE Bonus Software
When you purchase Replay A/V, you also get:
| | |
| --- | --- |
| | Replay Converter: A full fledged video and audio file converter. Convert video and audio files to 36 different formats. Just choose your files, pick the desired output format and go. Replay Converter is fast and easy to use. |
| | Replay Player: This handy add-on makes listening to recorded radio shows on your PC a joy. Pause, skip over ads, fast forward and rewind, or speed up playback. Incredibly handy! |
Windows 7, Vista, XP, 2000

High-speed Internet Connection recommended.

MP3 Player or CD Burner recommended but not required

All Applian recording products are designed for the Microsoft Windows operating system. Install Parallels and Windows on your Mac if you'd like to run Windows software. All Applian recording products work in Windows on a Mac.




Read the User Guide or FAQ
We stand behind all of our software with a comprehensive User Guide and great customer service.
Got Questions?
Did we mention we have great customer service? Visit the support area to contact us.