| | |
| --- | --- |
| Video Splitter and Video Joiner for Windows | |
Split and Join Video Files
Edit segments.
Super-easy to use.

Just $29.95




How to Split and Join Videos with Replay Media Splitter

Easy to Learn, Easy to Use
Replay Media Splitter is a really easy to use video splitter and video joiner. Once it's installed, you'll be slicing and dicing media files in minutes.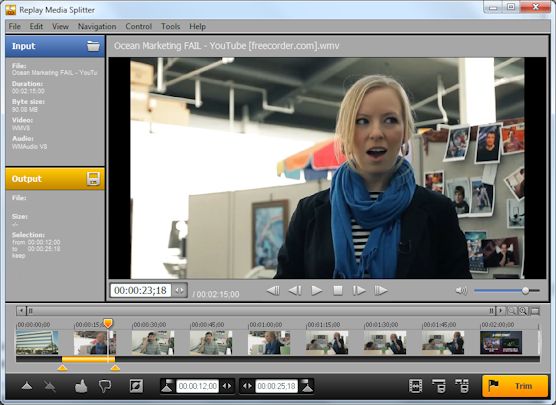 Intuitively Split Any Media File
Once you've loaded a video or audio file, you can include or exclude segments of your media file by setting markers at segment boundaries. Numerous navigation options give you precise control, including frame-by-frame, time based, and even K-Frames (new camera shots).
Join Files Easily
Use the join manager to join files of the same file type. It's fast and easy!

Supports Popular Audio and Video Formats
Replay Media Splitter edits these popular video and audio formats:
AVI
WMV
ASF
WMA
MP3
MOV
MP4
MKV
For other formats, use Replay Converter to convert almost any audio and video file to one of the above options.
| | |
| --- | --- |
| Windows 8, 7, Vista, XP, 2000 | All Applian recording products are designed for the Microsoft Windows operating system. Install Parallels and Windows on your Mac if you'd like to run Windows software. All Applian recording products work in Windows on a Mac. |
Read the User Guide or FAQ
We stand behind all of our software with a comprehensive User Guide and great customer service.
Got Questions?
Did we mention we have great customer service? Visit the support area to contact us.