Record SoundClick (and more)
with Replay Music
The Ultimate Streaming Music Recorder
Record High Quality MP3's from online radio and music subscriptions services.
Automatically splits and tags individual tracks
Works great with SoundClick and lots more.

Just 107.22.127.92
" I was just about to ask for a feature that would let you edit a list of previously recorded tracks that didn't get tagged properly. Using RM to correctly name music files is is labor intensive, but not nearly as labor intensive as NOT using RM to do it. I've left the program running for days to match up a saved playlist with the untagged files so I wouldn't have to adjust the file properties by hand in Windows. I was just thinking it would be so much better if we could go back to a group of files to make changes, perhaps after a mandatory system reboot. Now I see that someone already did this with the Record Session feature, so thank you! "

William B.
Kittery, Maine
Download Music MP3s from Anywhere with this Amazing Music Recorder
Wouldn't it be great if you could make MP3s from online radio stations, MySpace, Music Videos, Digital Music Services, or anywhere else, automatically? With the artist, album, song and genre placed into the file for you? You can with Replay Music!

Replay Music is a unique streaming music recorder that captures MP3 files from any streaming source. Every song is saved on your PC as a high quality MP3 file, automatically tagged with the artist, song title, album and genre, and perfectly separated into individual tracks. You can even burn songs directly to CDs, or copy them to your iPod or MP3 Player. Plus, it's incredibly easy to use. What a great way to discover new music!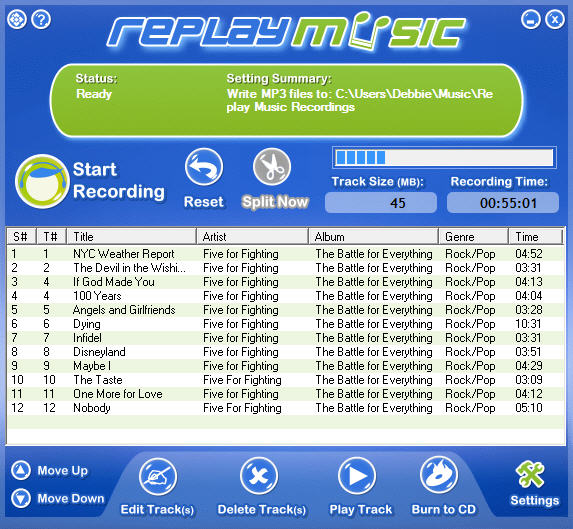 Replay Music records MP3s, recognizes each song, and automatically adds the artist, song title, album and genre to each MP3 file. How cool is that!
What's Different about Replay Music? Unlike other recorders which just work with a few ShoutCast stations, Replay Music is the only product that works with high quality online radio stations, music videos, MySpace and popular subscription music services, and any PC-based program. It works great with Windows 7, Vista or XP.

Easy-to-use Music Recorder
Replay Music can turn music videos into MP3 files. Just open Replay Music and play the video - you'll get a fully tagged MP3 file as soon as the song ends.
Replay Music is also a great way to record streaming music from these popular Digital Music Services and more:
(Legal note: Replay Music is not affiliated with any of these services, nor do we encourage violating any license agreements. We offer this list only for compatibility purposes.)
Tags Songs Automatically
Only Replay Music can automatically tag your recorded MP3s. Using proprietary song recognition technology, Replay Music identifies each song after it's recorded, and adds the artist, song title, album and genre information to each MP3 file. Not only can you record, but now you know what you're listening to!
Precise Track Splitting
Replay Music sports the most sophisticated track splitting algorithms on the planet. Besides just recording and tagging, each MP3 file contains the entire song -- no more, no less. Other recording programs may chop off the start or end of the song, or add unwanted noise. Replay Music's songs are always perfect.
Order now, or try the Free Demo with up to 25 free tracks today!
Windows 7, Vista, XP, 2000

High-speed Internet Connection recommended.
400Mhz Pentium or faster

All Applian recording products are designed for the Microsoft Windows operating system. Install Parallels and Windows on your Mac if you'd like to run Windows software. All Applian recording products work in Windows on a Mac.




Read the User Guide or FAQ
We stand behind all of our software with a comprehensive User Guide and great customer service.
Rave Reviews
Replay Music has won the PC Magazine Editor's Choice Award!
Support The Artists!
If you like a song you've recorded, please BUY THE SONG! Replay Music is not intended to be a replacement for music stores, rather it allows you to listen and make an educated purchase. There are many good reasons to buy music:
You help support the artist.
Your downloaded file will be of the highest quality.
You'll sleep better knowing you did the right thing.
Is Replay Music Legal?
Yes! Read the Replay Music Legal FAQ and learn more.
Got Questions?
Did we mention we have great customer service? Visit the support area to contact us.