| | |
| --- | --- |
| Screen Recorder for ANY Web Video in Highest Quality - Replay Video Capture | |
Screen Record ANY Web Video
Turn DVD's into WMV or MPEG files.
Capture Webcam Sites
Make PowerPoint Videos
Capture Video Chat Sessions
And More!
A Quick Video Introduction to Replay Video Capture: Screen Recorder
"I have never received such great customer support from any software Vendor! You guys should be praised to high heaven!!!"

Arun
Hixson, TN
Make High Quality Video from ANYTHING Playing on Your PC
Having trouble downloading Web videos? Can't copy DVD's to your PC? Want to make high quality movies from any part of your PC screen? Then keep reading... Replay Video Capture screen recorder software is the best way to make production quality video recordings from hard-to-record sources, including:
ANY Video Web Site, using ANY streaming protocol
DVD's
Webcam sites
PowerPoint Presentations
Video Chat sessions
And more!
Super-Easy to Use Video Screen Recorder
Using Replay Video Capture is easy. Use the Get Video button to automatically detect the video window, then click Record to start.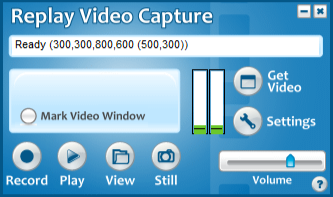 Once you're recording, click Stop to end the recording, or Pause to pause and resume.
Video Tutorial: Introduction to Replay Video Capture

Get More Replay Video Capture Videos


High Performance, High Quality, Small Files
With the Replay Video Capture screen recorder, you'll get amazing video quality, or compact portable files. You can choose between high-quality, high-speed MPEG-2 files, or smaller Windows Media (WMV) files.
Replay Video Capture's super-fast MPEG-2 codecs don't bog down your CPU, so you won't lose video frames or get choppy audio. These are preferred for high-motion video, or for use on slower PC's.
For the audio track, Replay Video Capture captures what you hear from your PC's speakers by default. Or, you can choose to narrate using the microphone instead, which is great for PowerPoint presentations and software demos.
Come try the Replay Video Capture screen recorder for yourself, and start making awesome screen capture videos right away! Download a free demo and Order Today!
Windows 8, 7, Vista, XP, 2000

High-speed Internet Connection recommended.

All Applian recording products are designed for the Microsoft Windows operating system. Install Parallels and Windows on your Mac if you'd like to run Windows software. All Applian recording products work in Windows on a Mac.




Read the User Guide
We stand behind all of our software with a comprehensive User Guide and great customer service.
Did We Mention Great Customer Service?
"I have had 'Ask & Record' for some time now. I have to congratulate you on a superb piece of software, especially as it is completely FREE. "

John F.
Manchester,United Kingdom'
Got Questions?
Visit the support area to contact us.