Hey! Looks like you're on Windows. Looking for Replay Converter for Windows?
Go here!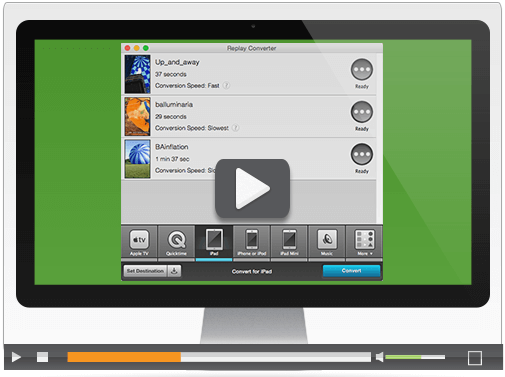 The Best Way to Convert Video and Audio Files

Replay Converter for Mac is the easiest media converter for converting video and audio files, especially ones you can download from web sites. You simply pick the files to convert, choose an output format, and click a button to start the process. Media conversion happens automatically.
You don't need to know anything about video formats. Just select the target device and Replay Converter for Mac does the rest.
Convert to many video formats. AppleTV, iPad, iPhone, and lots more.
Convert Audio Files to AAC, MP3, WAV and OGG.
Smart Conversions. Only converts what is necessary, leaving the rest alone.
Fast. With Smart Conversions you'll see very fast, high quality conversions.
Thumbnails. Easily see what's being converted.
Money Back Guarantee: 30 days. No questions asked.
Pre-Defined Device Formats
EASY
You don't need to be a tech-nerd to use Replay Converter for Mac. Just pick the desired device from the menu, and the conversions happen for you. With Replay Converter there is no need to know about complicated encoding parameters. But, if you want more control, Replay Converter gives you the option to change your default conversion type for each device. You're in complete control.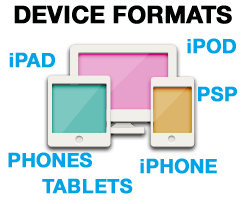 Try it Free!
Try Replay Converter for Mac FREE today. The free demo is fully functional so that you can try all of the features. In demo mode you can convert up to 50% of any media file. Once you purchase, you'll enjoy unlimited conversions.
Ready to Buy? Replay Converter for Mac comes with a no-questions asked 30-day money back guarantee.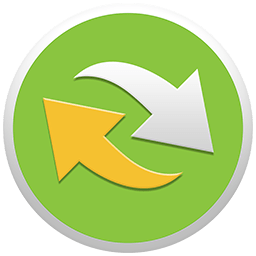 Our Customer Service Rocks!
We've been perfecting the art of excellent customer service for years. We stand behind all of our software with a 30-day money back guarantee, great customer service and comprehensive product documentation.