Hey! Looks like you're on Windows. Looking for Replay Music for Windows?
Go here!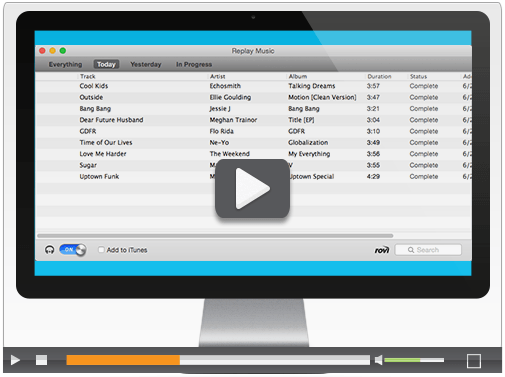 The Ultimate Internet Music Downloader and Audio Recorder for Mac
Wouldn't it be great if you could capture music files from online music videos, or digital music services? With the artist, album, song, tagged for you automatically? You can with Replay Music for Mac.
Replay Music is a unique music downloader, specially optimized for music. Save your music into MP3 files, perfectly separated into individual tracks, and automatically tagged with all the song information.
And new with version 2.0 Replay Music for Mac can now includes a unique audio recorder. Record any audio you can hear playing on your Mac! Including from sites that cannot be downloaded.
What a great way to discover new music and improve your collection!
Download music from online music services like Pandora, Rhapsody and Soundcloud.
Convert YouTube videos to MP3's
Automatically Identifies & Tags Million Of Songs
Automatically send tracks to iTunes
All new audio recording mode. Record any audio playing on your Mac. Including Spotify!
Build your music library
Download Online Music
FAST!
Replay Music can download from music sites like Rhapsody, Pandora and Soundcloud. Download a song faster than you can listen to it in real-time!
Record Music from Online Videos
SLICK!
Want to save the special version of a song that is playing with a cool video? Replay Music makes it easy to turn music videos into MP3 files. Just open Replay Music and play the video - you'll get a tagged MP3 file ready to add to your music library.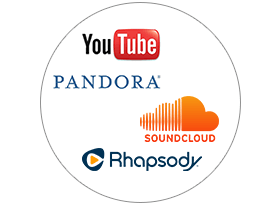 Try it Free!
Try Replay Music for Mac FREE today. The free demo is fully functional so that you can try all of the features. In demo mode you can save your first 10 songs free! After 10 songs, all recordings are saved to 50% length. Once you purchase, you can save unlimited songs.
Ready to Buy? Replay Music comes with a no-questions asked 30-day money back guarantee.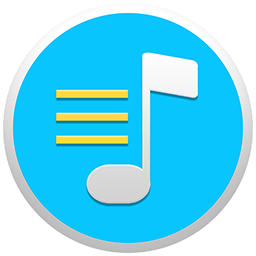 Our Customer Service Rocks!
We've been perfecting the art of excellent customer service for years. We stand behind all of our software with a 30-day money back guarantee, great customer service and comprehensive product documentation.