Welcome to Replay Music for Mac
Replay Music for Mac is an easy way to download the music you love from your favorite streaming music sites. Just switch it on and Replay Music will save music files from many popular streaming music sites as they play on your Mac.
These downloaded files can be transferred to other devices like your iPod, iPhone, iPad, or burned to a CD.
Replay Music uses a Music Fingerprinting technology to automatically identify and tag all recorded music files.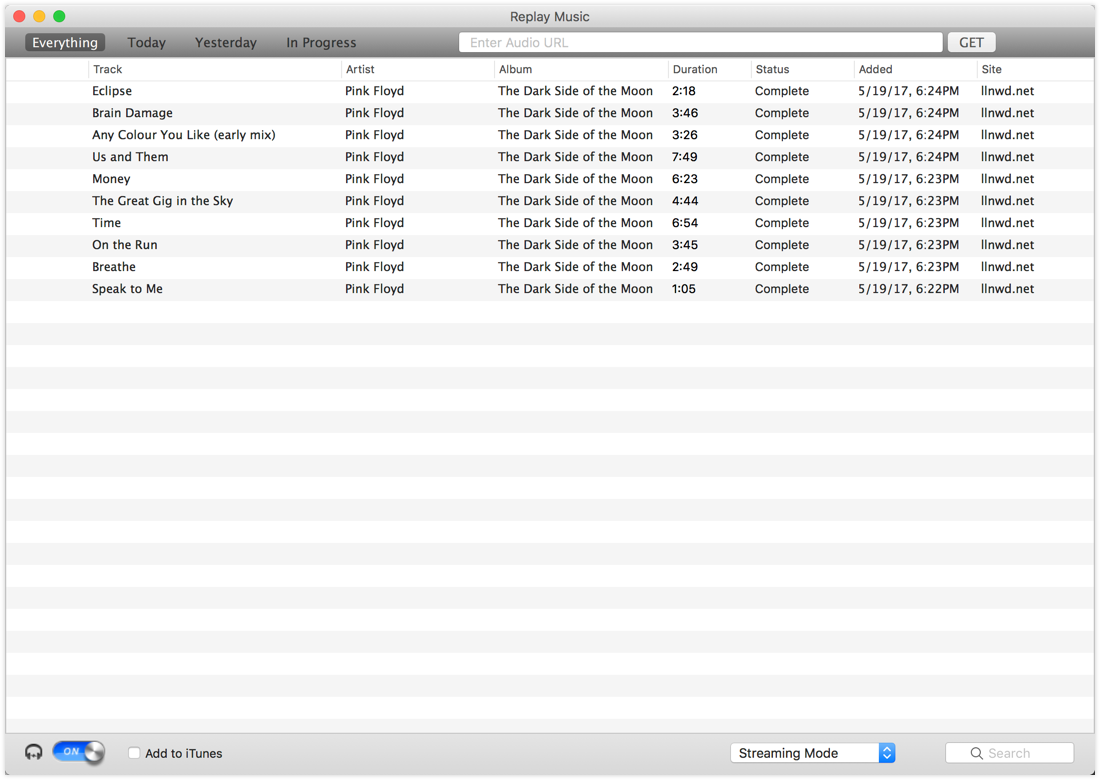 How Replay Music for Mac Records
Replay Music locates the web address of the music file you are playing, reconnects to the host server, and makes an exact copy of the file on your Mac.  Typically, this download process is much faster than actually playing the file. Once the download process starts, you can close audio player, and the file will continue to be captured.
Note: Some web sites use encryption when streaming audio. Replay Music cannot downloaded these encrypted streams. However, with the new Audio Recording mode, they can be recorded in real time as they play on your Mac. See below for more information on using the Audio Recording mode.
Downloading Music using Streaming Mode
Open Replay Music and set it to Streaming Mode (default setting) and switch on the monitoring button.

Any compatible non-encrypted audio stream that you play on your Mac will be downloaded.

When Replay Music is actively monitoring for media to record, the ON/OFF slider changes to the ON position. When Replay Music is switched OFF, nothing will be downloaded until it is switched on again if it is in Streaming Mode.
Replay Music also features a URL downloader bar, where you manually enter the URL address of the audio file that you want to download. Then press the GET button or hit enter/return. The file will then download.

Recording Audio in Audio Capture Mode
Replay Music for Mac now has the ability to record any audio it hears. This mode of recording is best used with sites and services that cannot be downloaded in Streaming Mode. With Audio Capture Mode, Replay Music listens and will record the audio as it plays in real-time.
To begin recording in Audio Capture Mode. Switch the monitoring button to the ON position.

Change the mode to Audio Capture Mode. Replay Music will now start listening for audio and will begin to record and tag the tracks it hears. Be careful to not have any other audio play other than what you want to capture. Be aware that system sounds could also get recorded. So long as there is discernible silence between the tracks you play, Replay Music will automatically spit them into separate tracks.

Track Tagging
Replay Music uses a digital fingerprinting technology to automatically recognize and tag the music you have downloaded or recorded. In some cases the track may not be identified by the music database, or you may wish to change the tag. You can easily edit the track tag information from within Replay Music.

Here's how to edit the track information:
Click once in the field that you'd like to change. A blue box will appear around it.
Type your desired track, artist or album name.
Note: If you would like to view the file in Finder, simply right-click on the track in your list and select Reveal in Finder.
Send Track(s) to iTunes
There are two ways that Replay Music for Mac can send tracks to your iTunes Music library.
Select a track or tracks then hover your mouse just to the left of the track name. A few icons will appear. Click the icon and the selected track(s) will be added to iTunes. The track status will change to Sent to iTunes.

OR


Or, enabling the Send to iTunes option at the bottom of the interface will send every track to iTunes as each finishes downloading and converting.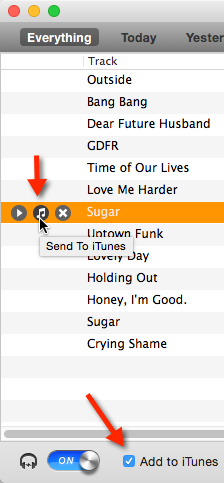 Play Downloaded Music
There are many ways to play your downloaded music. Here are a few:

Select a track that you would like to play. Hover your mouse just to the left of the track name. A few icons will appear. Click and your track will begin to play. The icon will change to a stop icon. Simply click it to stop playing.

OR


Right-click on the track and select Reveal in Finder. Right-click on the track in Finder and select Open With. Then choose your desired application to play the file.

OR


Open your chosen download location as set in Preferences. Then choose the files to play.

OR


If you've sent your tracks to iTunes (as explained above), find and play your tracks there.

Preferences
From the Replay Music menu bar, select Replay Music, then Preferences. Here's what you can configure:
General Preferences: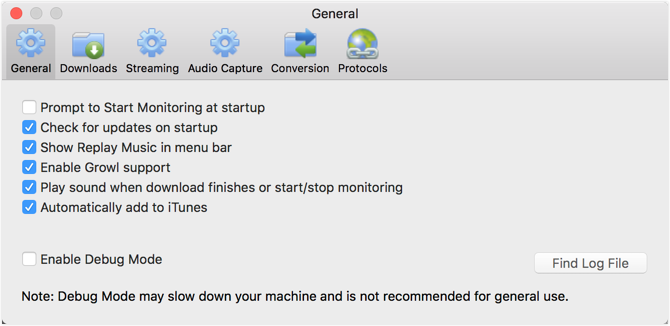 Prompt to Start Monitoring as startup: will show the welcome screen every time you open Replay Music. Leave this unselected and Replay Music will begin monitoring automatically upon opening.
Check for Updates on Startup: will check to see if there is a new version of Replay Music available to download.
Show Replay Music in menu bar: turns on or off the display of the Replay Music icon and menu in the OSX menu bar.
Enable Growl support: Replay Music uses Growl to discreetly show you when a stream has been detected and is downloading or completed. You can turn this on or off.
Play sound when download finishes or start/stop monitoring: We like the sounds. But if you don't, here's where you can turn them off.
Automatically add to iTunes: Will add all downloaded music tracks to your iTunes library when they are finished downloading and converting. You can also enable or disable this option in the main window.
Enable debug mode: Use this only when requested by technical support. It generates a more detailed log if you should need help.
Find Log File: This is very helpful. If you are submitting a tech support ticket, we can help you better if you attach your log file.
Downloads Preferences:
Download location: Set the folder where you'd like Replay Music to keep your downloaded music.
Minimum Download Size: Specifies the smallest file that is saved. Sometimes when recording, small advertisements might be captured by Replay Music. You can increase the size if you discover you are getting too many unwanted files. The default minimum size is 200kb. We find this is satisfactory for most.
Streaming Preferences:

Simultaneous Downloads: The is the maximum number of downloads happening at any one time. The default is 10.
Always Record HTTP: When checked, HTTP streams will be recorded rather than downloaded. This requires that you leave the player open for the entire track as the data is recording in real-time rather than downloading.
Always Record RTMP: When checked, RTMP streams will be recorded rather than downloaded. This requires that you leave the player open for the entire track as the data is recording in real-time rather than downloading.
Filter Known Advert Servers: will stop advertisements from known servers from downloading.
Audio Capture Preferences:

Audio Device: By default Replay Music will use Soundflower (2ch) as the audio device to record when you want to record sound that is playing on your Mac (like streaming music). Soundflower is installed with Replay Music. When Soundflower is selected as the audio device in Replay Music, it will also switch your Mac audio input device to Soundflower as well. When you're finished recording, it will automatically switch back to your previously assigned audio input. You can also set the Audio Device to record from other inputs from the drop-down menu.
Split On Silence: Allows for a recording to stop and start again once audio levels drop to a certain threshold percentage, for a set maximum amount of time. This is so that it can detect breaks in between songs on a playlist and separates the tracks. You must click outside of the box in another box when you change a value for it to take.
Record Silence: Determines how long Replay Music will continue recording once no more audio is detected before it stops. This is to prevent it from recording indefinitely once a track has finished.
Conversion Preferences:

Conversion Location: set the folder that you would like Replay Music to save your converted files.
Multi Core Conversions: if enabled will use additional CPU cores (if available). This can result in faster conversions, but uses more processing power.
Protocols Preferences: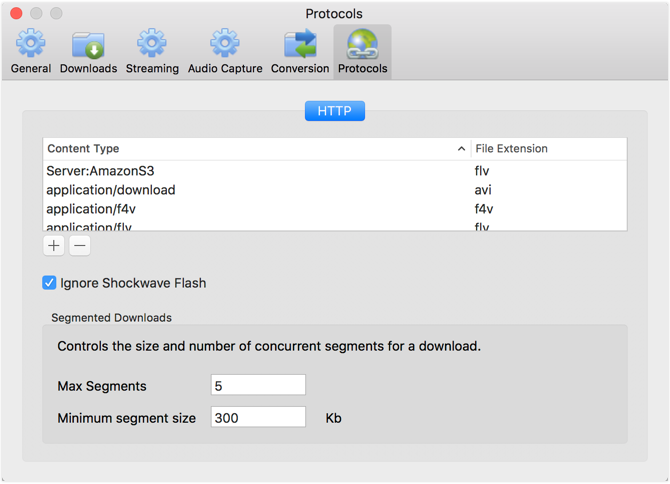 This dialog shows the HTTP content types that Replay Music recognizes, and what extension it adds to the saved file. You will only need to change this if you are technically savvy, and a new media type is discovered.
Ignore Shockwave Flash: Leave this checked if you want Replay Music to ignore SWF files like flash banner ads.
Max number of segments: When Replay Music downloads, it asks for different parts of the media simultaneously. This effectively speeds up the downloading process. If you find that Replay Music is using too much network bandwidth to record, reduce this number. Increasing this to more than 5 segments won't speed up downloads though.
Minimum Segment size: Lets you determine how big the smallest segments to download should be. For example, if this is set to 300 Kb, and the size of the video to be downloaded is 300 Kb, then a single request will be used. For smaller media files, downloading with a single request is faster than using multiple segments.