TABLE OF CONTENTS
Overview
YTV Clone is an easy - to - use program that makes it possible for you to watch multiple shows at once without having to switch between browser windows or tabs.
YTV Clone duplicates Chrome browser windows and thus creates Picture in Picture (PIP) browsers, which can be placed anywhere on your screen. You can move them around and use your PC as you always do while watching sports, live shows, films and more. YTV Clone is very light on system resources, which means it will never interfere with system performance or your work.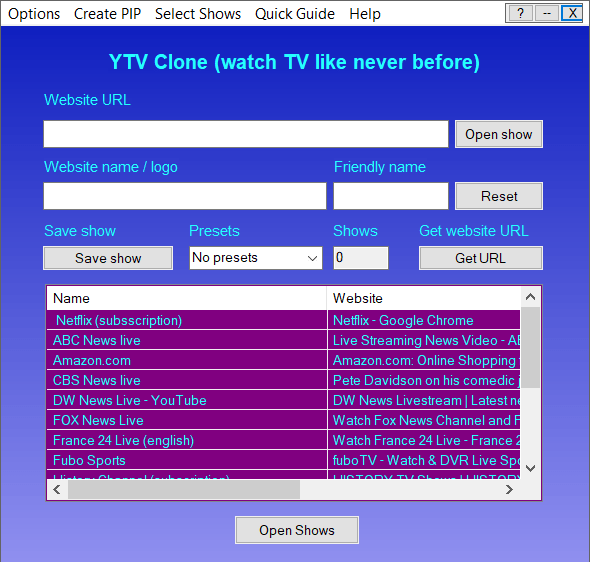 YTV Clone is compatible with all Windows versions and requires the Google Chrome browser. It's specially designed to work with YouTube TV videos.
YTV Clone works great for:
Watching multiple Internet TV channels on a PC at once using Internet TV apps like Google YouTube TV
Watching multiple Internet TV channels on a TV by connecting your computer to TV with an HDMI cable or streaming devices like Google Chromecast
Creating Picture in Picture videos that let you have your work and your favorite shows on the screen at the same time
YTV Clone has been designed to work with Google's YouTube TV streaming app (https://tv.youtube.com/live) but any other Internet TV streaming app should work just the same.
Most TV streaming apps usually require you to have a subscription and they're not available everywhere. However, you can use YTV Clone to clone any video played in the Chrome browser. Netflix, Amazon, YouTube, ABC, BBC, KBPS, History and Science channels are just a few of the websites broadcasting video content that YTV Clone can handle.
How YTV Clone Works
YTV Clone creates one or more PIP browsers - small copies of the Chrome browser windows that retain the most important browser controls available as a right - click context menu. The PIP browsers are created specifically for playing videos in the browser and clone Picture in Picture videos for ease of use.
Cool Things You Can Do with YTV Clone
Watch two or more TV shows at the same time (something your TV doesn't do).
Watch your favorite shows on your computer using the Picture in Picture mode (another feature that your TV doesn't have).
Use your computer while watching TV shows on the same screen, without having to jump between tabs.
System Requirements
All modern Windows versions, 32 or 64 bit are supported
Chrome web browser (preferably the latest version)
At least a dual core CPU, 2 GHz, 4 GB RAM
Installation
YTV Clone can be installed on any type of Windows accounts, administrator or user. The program does not need elevated privileges.
To install YTV Clone, do the following:
Download the installation file
Double - click on the installer's icon to run it. If you get a UAC prompt, allow the installer to run.

Agree to the terms and click on "Next".

You can change where YTV Clone is installed if you want to.

When YTV Clone is ready to be installed, you'll get an installation summary. Click on the "Back" button to change the settings or on the "Next" button to proceed.

You'll get a success message once YTV Clone is installed on your PC.

Running YTV Clone
Using YTV Clone is very easy and doesn't require any special setup or configuration. All you need is a computer connected to the Internet and a recent version of the Google Chrome browser.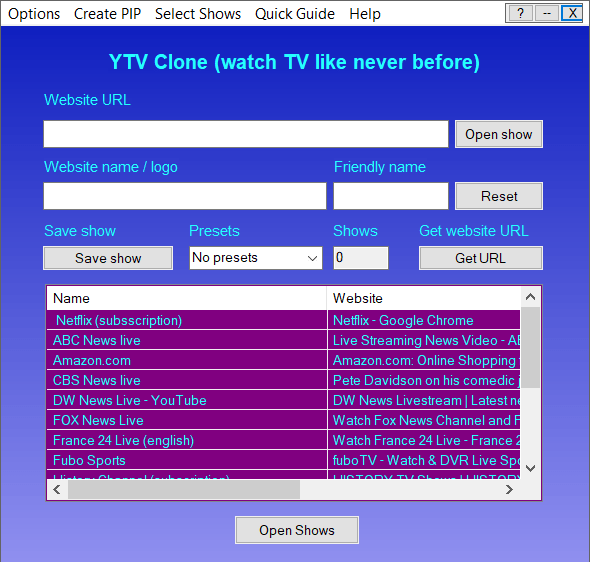 To start using YTV Clone, do the following:
Open the web page of your choice in Google Chrome.
Click YouTube TV PIP or Create PIP. The PIP browser will open.

If a video is playing, pause the video
If multiple tabs are opened in your Chrome browser, only the tab you're currently using will be cloned
The opened/visible page can also be a minimized window

When you're watching a YouTube TV channel video, use the "YouTube TV PIP" button; use the "Create PIP" option for any other web page.

Alternatively, you can enter the URL of the page containing the video in the "Website URL" field and click on the "Open show" button.
When you open a YouTube TV video for the first time using YTV Clone, automatic setup may be necessary. The message below indicates the beginning of setup. Simply wait until this message disappears.
"Please do not close this Google YouTube TV window during the setup"
In some cases, this message may be followed by "Please wait a little..." This message may last for about 20 seconds. If an error occurs, repeat the setup by clicking the YouTube TV button again.
The setup is only required for YouTube TV pages and you'll only need to run it once.
During the next step, the web page URL and Tile will be captured and displayed in the Website URL and Website name/title windows. If the URL can't be properly detected, you'll get an error message and be prompted to copy/paste the URL from the browser's address bar.
Once URL/Title are properly detected and setup for YouTube TV page is successful, the PIP browser opens.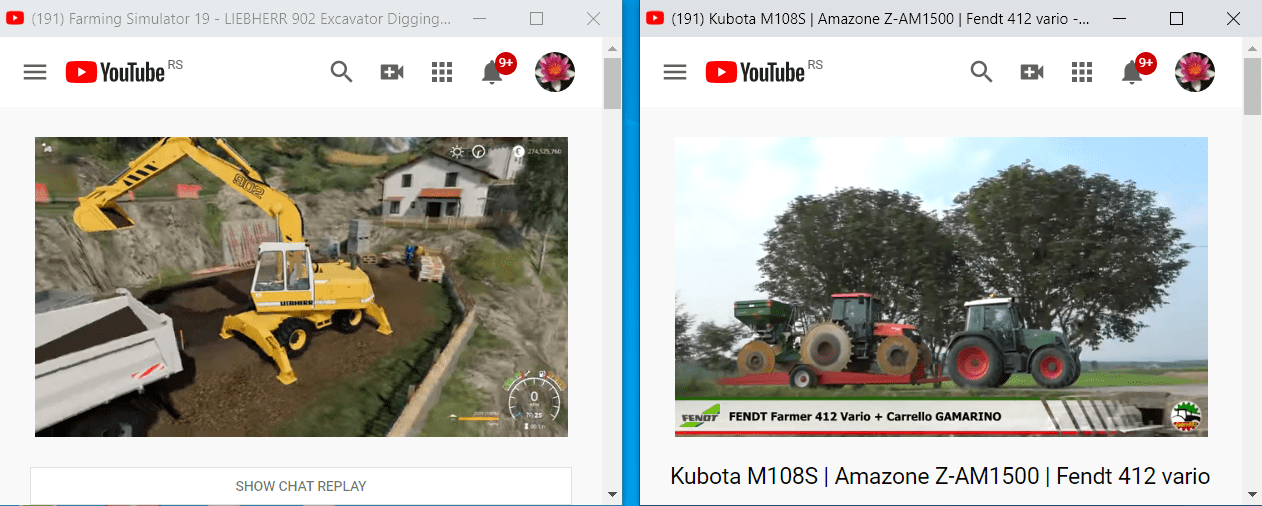 Use steps 1 and 2 to create multiple PIP browser windows.
Useful Things YTV Clone Can Do
Find URL and Title of a Chrome Web Page
Click "Get URL/Title" and the URL and Tile of the page will be captured and displayed in the "Website URL" and "Website name/title" windows. Alternatively, copy and paste the browser URL from the browser address bar to YTV Clone.
Clone Website URL Window
The website name/icon is also displayed under "Website name/logo". If the website name/logo aren't shown, click on the "Reset" button and try again. Click the top of the browser window to grab the required info.
Open a PIP Show
Enter a web page URL in the "Website URL" field and click "Open show" to open the show you want in a PIP browser. This feature is available when the website URL has already been detected.
Save a PIP Show
If you want to save the show URL and name, type a desired name in the "Friendly name" window then click "Save". Use the "My Channels" list to save URLs and tiles in a file.
Important: sometimes saved YouTube TV show URLs may no longer be valid (YouTube TV video shows '…recording is not allowed…'). If that happens, you'll need to reset the show URL and get the new one as described in the next section or using steps 1 and 2.
Reset Obsolete YouTube TV URLs
Open your YouTube TV show. Click "Get URL" to capture and display the URL and the Title or copy the URL from your browser address bar and paste URL to "Website URL". Right - click the obsolete YouTube TV show name in your list and click on "Replace Selected" in the pop up menu that appears.
Run Multiple PIP Shows
You can open multiple shows using steps 1 and 2 or select up to six shows from the show list. When done, click "Open shows" and YTV Clone will open the PIP browsers. The size and position of the cloned windows is automatically determined as a function of the number of shows and your screen resolution. However, you can customize these settings to fit your needs (see the "Main controls and menus" section).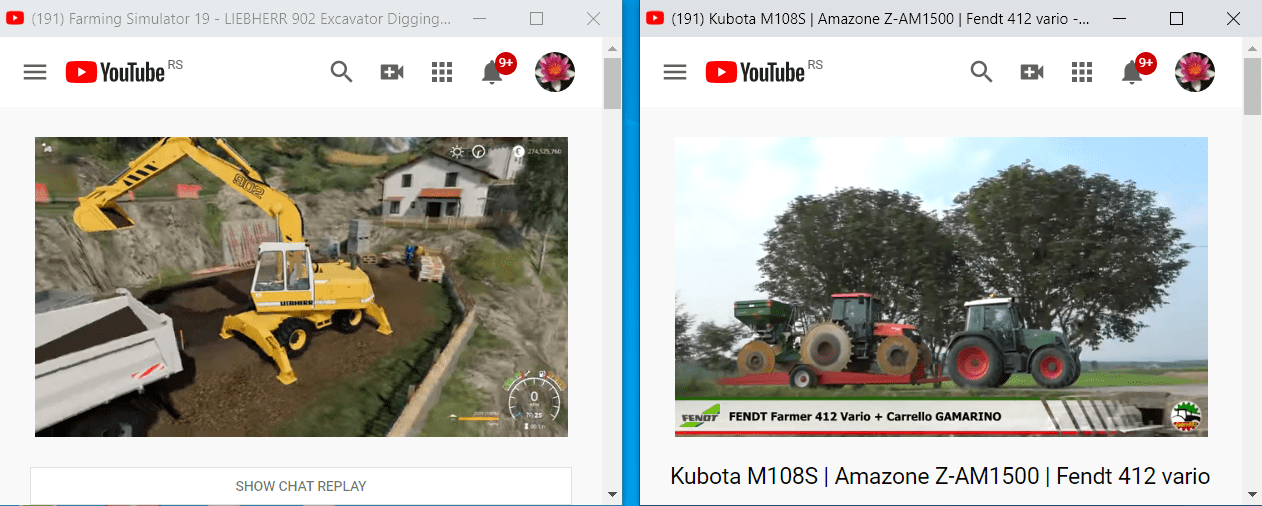 Note: Google YouTube TV is the only YV streamer that we tested, which allows running more than two TV shows at once.
Warning: Avoid overloading your CPU by running too many cloned videos at the same time. We recommend a maximum of four cloned videos (PIP browsers) running simultaneously on your screen.
Run Preset Configurations
You can open the preset configurations using the "Presets" dropdown list. The configuration of the cloned windows is shown in a pop - up window when you select a preset.
Cast to TV
Using a PC to TV streaming device like Google Chromecast, you can broadcast your desktop and cloned videos to your TV. Note that casting the desktop takes up CPU resources, which could lead to choppy TV images if your PC doesn't have enough CPU power. Using an HDMI cable instead should fix the problem.
Main Controls & Menus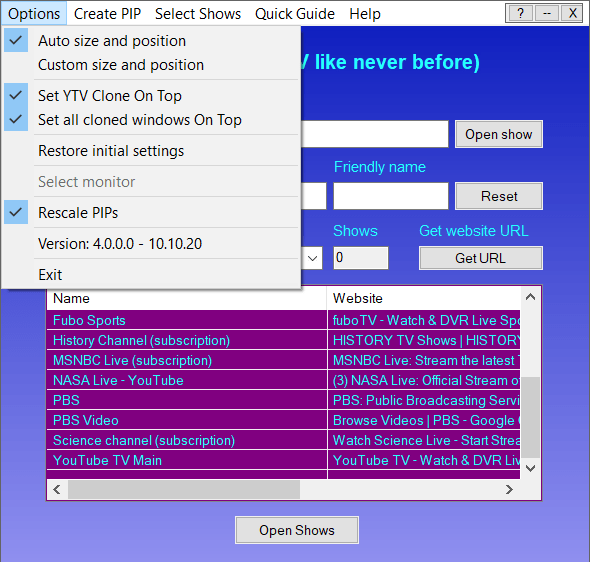 Buttons
YouTube TV PIP - create a YouTube TV Picture in Picture.
Create PIP - create a Chrome website Picture in Picture.
My Channels - open the list of your saved shows. Includes YouTube TV and other web pages.
WEB Shows - open web video show list (for videos not included in YouTube TV).
Get URL/Title - get the URL and Title of a Chrome browser web page.
Reset - reset all current actions. Use the Reset button on the main screen to:
Clear the URL, Website name, Friendly name. Use this function if the website name was not captured or not captured correctly
Clear the Presets dropdown list
Options Menu
Auto size and position: use this option to to automatically scale and position cloned windows.
Custom size and position: in custom mode, the cloned windows have the size and position you've setup provided the PIP window titles are not the same (which is the case of YouTube TV).
Update YouTube TV channels: occasionally, Google changes the TV channels URL. We keep a list of updated URLs on our website that can be downloaded using this option.
Don't check for updates: when this option is selected, YTV Clone will not automatically search for updated URLs. This option also disables the tool windows.
Set all opened windows on top: the default option for positioning of cloned windows. This can be changed according to your needs.
The PIP Video Menu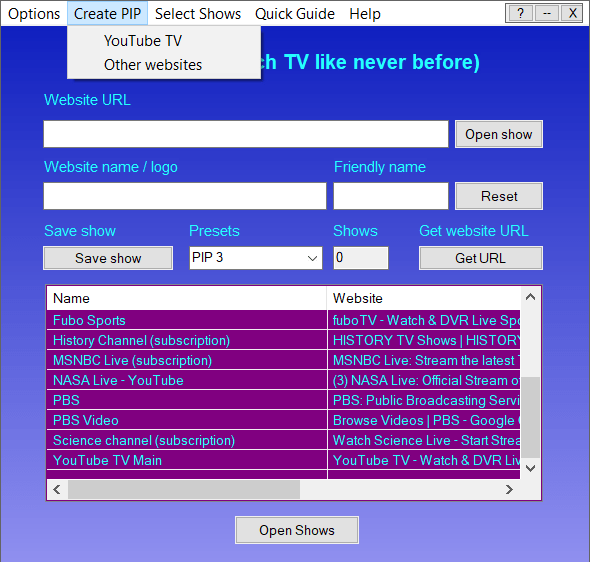 The PIP video menu opens when you slowly hover the mouse over the left side of the PIP browser. The settings apply individually to each browser.

The "Set on top" option should be used when the background window is a full - screen window and you want the PIP window to always stay on top.

You can add/remove transparency to the PIP video, mute/unmute the Chrome browser, remove/restore the borders and caption bar of the PIP window, and use a few other options.
Note that the Mute/Unmute control applies to all Chrome browser windows, not to individual PIP windows. However, all cloned videos have their own audio controls, which can be used to mute or adjust individual audio volume.
The Select Shows Menu
This menu item lets you open your save shows from YouTube TV or other websites.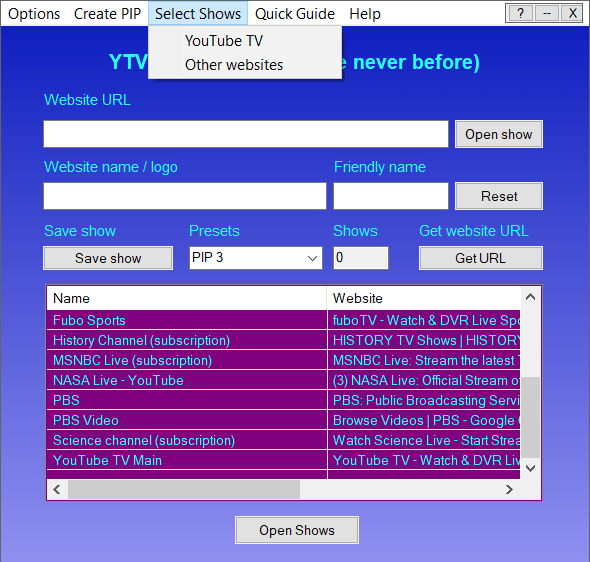 The System Tray Menu
This opens when you click the system tray icon (located under on your taskbar, usually hidden). Use this menu to control some of the features of the cloned videos, such as minimizing, restoring, muting or closing all open cloned videos. Note that when you close and reopen YTV Clone, the program will not offer any controls for windows that were left open from a previous run.
The PIP Browser Control Menu
The PIP browser control menu opens when you right - click the top bar of the cloned window. It offers a few basic Chrome browser controls.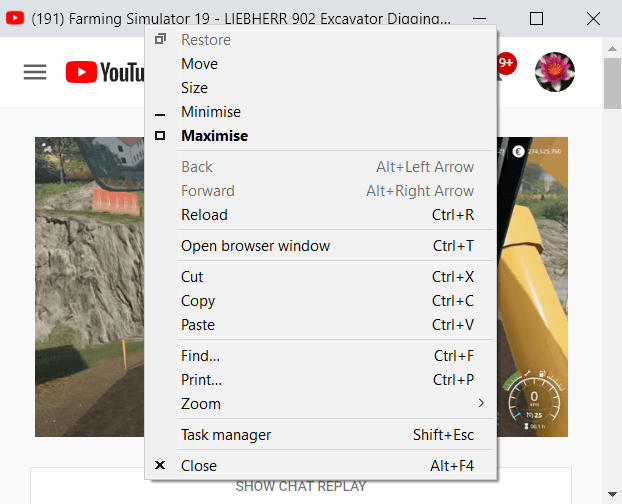 If you click on the top - left corner of the PIP window, some additional options will appear: