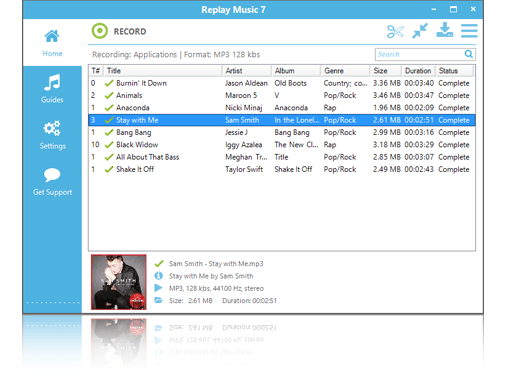 The Best Audio Recorder for Music Gets Better
This latest Replay Music 7 upgrade is chock full of improvements to recording, tagging and usability:
Improved audio recording: Eliminates all system sounds for super-clean recordings.
Correctly records and splits from sources using 4, 5, 5.1, and 7.1 channels.
Imports song lyrics.
Tag any music file on your PC by dragging and dropping into Replay Music.
No longer requires Admin privileges, and no more UAC prompt.
New small interface option.
Find songs from the built-in Media Guide.
Mobile friendly: Save recordings directly to DropBox, Google Drive, or OneDrive.
Improved album art import: Change the artwork yourself, or use Replay Music's suggestions.
Record multiple audio sources at the same time.
Get The Upgrade Now!
Buy now, or try Replay Music 7 free. You can tag 25 tracks in free mode. And you can still keep your older version of Replay Music if you like.
This upgrade comes with Applian's no-questions asked 30-day money back guarantee.