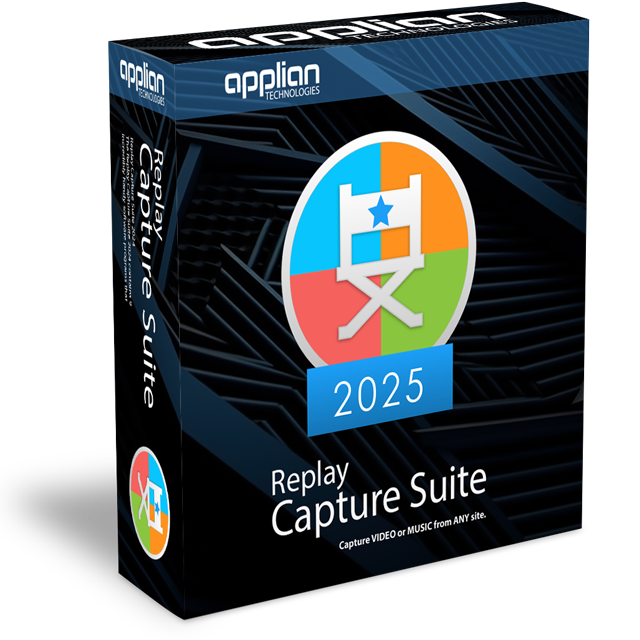 Replay Capture Suite 2023
The Replay Capture Suite 2023 contains 9 incredibly handy software programs that provide all the tools you need to capture media from the internet.
Replay Capture Suite 2023
Best For: Capturing Video or Music from ANY Site
Includes: 9 Capture, Converting and Editing Tools
System Requirements:

Windows

11, 10, 8, 7, Vista

Mac

OS X, 10 & 11
Discover the Power to Capture ANY Online Video & Audio
You save BIG when you order as a bundle, but you can also buy titles individually. If you already own one of the included products, you can upgrade to the Replay Capture Suite 2023 for an even better price.
Capture all kinds of streaming. Captures streaming video, radio shows, music and more. No need for additional software - it's all here!
Convert recorded files. Converts the files into 36 popular formats. You can export the files on to iTunes or convert them into a format that's compatible with your media player.
(Windows only): Edit audio and video files easily. Split, cut or join your files together and create professional quality recordings.
(Windows only): Encrypt personal videos. Keeps your private files and folders safe and secure on your PC or laptop with its robust password-protected software.
You can record radio, save music as MP3 files, download video, and convert and edit your recorded files. Explore the tabs above to see what the Replay Capture Suite 2023 can do for you!
Order today, and you'll save $198.95 on the entire bundle. Buy Now for Windows or for Mac!
What People are Saying About Us:
The Replay Capture Suite includes powerful programs that offer all the necessary tools to capture media from any resource. Read more
Eva Williams, photographer and software journalist for FixThePhoto.com
Between these applications (WM Recorder, WM Capture, Replay Media Catcher) one can record anything from the net.
Pramod
I have tried many, many, many demo programs. This software is by far the best I have ever come across. Simple to use; very easy to understand web help and absolutely the best suite i have ever seen. I will definitely purchase this software and I strongly recommend this to any user that wishes to capture any streamed music or video.
Paul A.
Adelaide, Australia
I simply want to say that I think that your products are absolutely some of the best software that I have ever used. Convenient, easy to use and install and extremely efficient. I have two of your products and have had for some time. I recommend your products to everyone that I know. Excellent products.
Troy H.
Sacramento, CA
WOW! Fantastic customer experience & service! Working at the end-user level in the technology industry, myself, I have high expectations for myself & for those with whom I work or whose products I support. You have been superb!
Vaughn V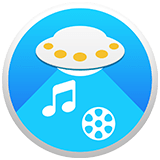 Download Video & Audio
Capture premium video and audio with the world's best streaming audio and video recorder. Replay Media Catcher is the only software that lets you capture streaming video and audio from previously unrecordable streams. Replay Media Catcher is the ultimate screen recorder and MP3 capture tool.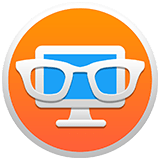 Screen Capture Videos
Having trouble downloading some streaming web videos? Replay Video Capture can make high-quality movies directly from your PC screen. It is the best way to make production quality videos from hard-to-record sources.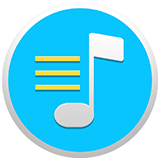 Record Music
Record MP3s or CDs from online radio stations or digital music services. Replay Music is the only package that can split songs perfectly into individual tracks, and then automatically add artist, title, album and genre information to MP3 files. It works like magic!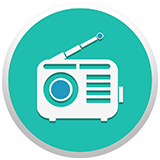 Record Radio
Replay Radio is back and all new! Replay Radio is the best way to enjoy your favorite radio shows and stations. Just pick a show or station from the built-in guide, and Replay Radio schedules and automatically records the show for you. Then listen on-demand from your phone, tablet or PC.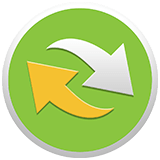 Convert Files
Replay Converter is the easiest way to convert video and audio files. You simply pick the files to convert, choose an output format and click a button to start the process. Everything happens automatically.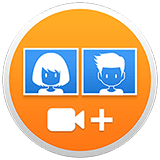 Record Video Calls
Meeting Recorder Plus is the only online meeting recorder for all types of video conferencing software including Zoom, Skype, and Google Meet. It offers the highest recording quality and makes it easy to record your calls in just one click.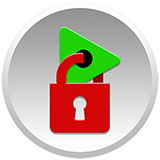 Protect Your Files
Protect personal video files on your PC with secure, convenient encryption with Video Padlock.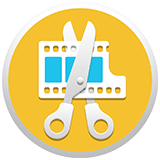 Trim Your Media
Easily extract or remove portions of your captured audio and video files with Replay Media Splitter. You'll be slicing and dicing media files in minutes!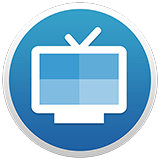 All-in-One Entertainment Center
YTV Clone lets you easily transform your PC into a multi-viewing entertainment center. It's the best app for those who don't want to miss a live event or show ever again!
Try The Replay Capture Suite 2023 FREE
The free demo is fully functional so that you can try all of the features. You can capture 100% length of all YouTube videos with Replay Media Catcher, and shorter lengths of everything else.