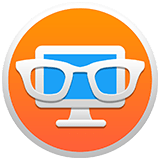 Upgrade Now!
Cool New Ways to Capture Video
New Version 7 makes it easier than than ever to capture high quality video from your PC screen. Here's what you get with this HUGE upgrade:
New Background Mode: You can now capture video from windows that are hidden. Just start recording, and your video will record perfectly even if overlaid by other windows. And since there is no video on your screen, your PC uses less processing power.
Insanely Higher Quality: Now you can record up to 50 FPS (frames per second) with background mode.
New Thumb Drive (Invisible) Mode: Replay Video Capture can now run entirely from an external USB/Thumb drive without the need to install it on a PC. Recordings are saved to the external drive too.
Improved Video Window Marking: It's now easier than ever to automatically or manually select an area for recording video.
Scheduling: Record from NetFlix, Hulu and more at a time and date you choose.
Download Version 7: You can install Replay Video Capture 7 from here.
Upgrade Now
Note: If you purchased Replay Video Capture before August 1, 2013, or the Replay Capture Suite before March 1, 2013, the upgrade is $14.95. Otherwise, you can continue to use your existing registration code, and do not have to purchase a new code.
Video Demo
Watch this video to see Replay Video Capture 7 in action: