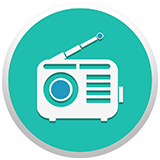 Replay Radio
Replay Radio lets you record thousands of online radio stations, convert to MP3, and even automatically transfer recordings to a mobile phone via DropBox or Google Drive. You can even record on-demand, or automatically schedule recordings. You can even record several shows simultaneously.

If you're into radio, Replay Radio is for you.
Try Replay Radio free today!
Video: See Replay Radio Record Radio Stations
Updated: 2014-11-16
Other products you can use to record Radio Stations:
More Information
Learn how to Record Audio from other popular sites and services.

About Radio Stations
Go to the Radio Stations web site.
Keywords
Download Radio Stations Audio
Capture Radio Stations Audio
Record Radio Stations Audio
Rip Radio Stations Audio
Save Radio Stations Audio
ID: 72