Download Replay Capture Suite for Mac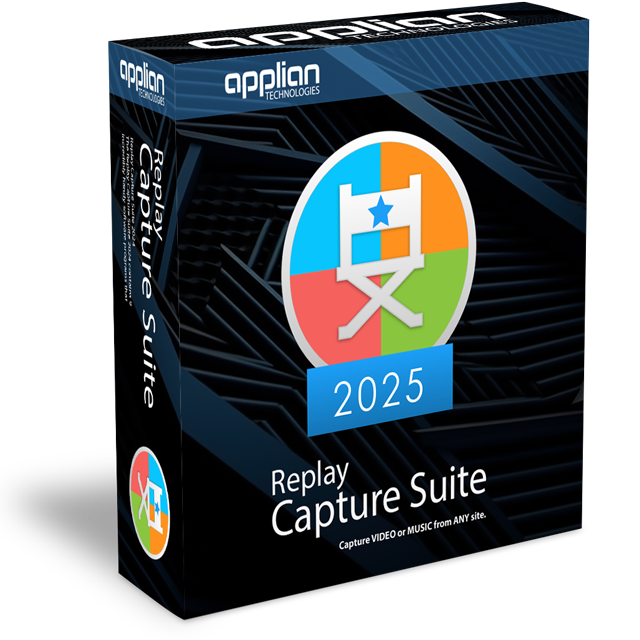 Current Customers:
You're downloading the most recent, fully functional version of Replay Capture Suite. However, please check the
upgrade
page to make sure you are eligible for these latest versions of all Suite software.
Not Yet a Customer? You can download free demos of all programs from the Replay Capture Suite from this page, and try anything you like before buying.
Demo Limitations: Our demo downloads are fully functional so that you can try all of the features. However, please note the following capture and conversion time limits:
Replay Media Catcher: 10 free downloads from any site. After that, 50% of any download from any site. Save up to one minute of any live stream.
Replay Video Capture: Video captures are limited to 2 minutes of video per recording.
Replay Music: First 10 songs free. After 10 songs, all recordings are saved to 50% length.
Replay Converter: Convert up to 50% of any media file.
How to Download & Install the Replay Capture Suite
The Replay Capture Suite includes these programs. Click their names to read more about them:
The Replay Capture Suite installer allows you to choose which programs of the Suite you'd like to install. You can install them all at once or one at a time. It's completely up to you. To ensure a clean install, we recommended that you uninstall any previous versions and re-boot your computer prior to installing the latest versions.
Upgrades
Do I Qualify for Upgrade Deals?
If you already own one Applian product you can get a great deal on the Replay Capture Suite or other products. Click here to find your deal!.
Activation Codes
Lost Your Activation Code? No Problem. Enter your email address below. The activation codes for all products you have purchased from us are emailed to you immediately.
Note: You must enter the same email address you used when ordering the software.
If this form doesn't work for you, please contact Customer Service to request assistance from one of our awesome human beings.
Reset Activation Codes
Occasionally you may need to erase activation codes from your PC to reregister a product. Use the Clear Activation Code Utility for this purpose.