Download Replay Capture Suite for Windows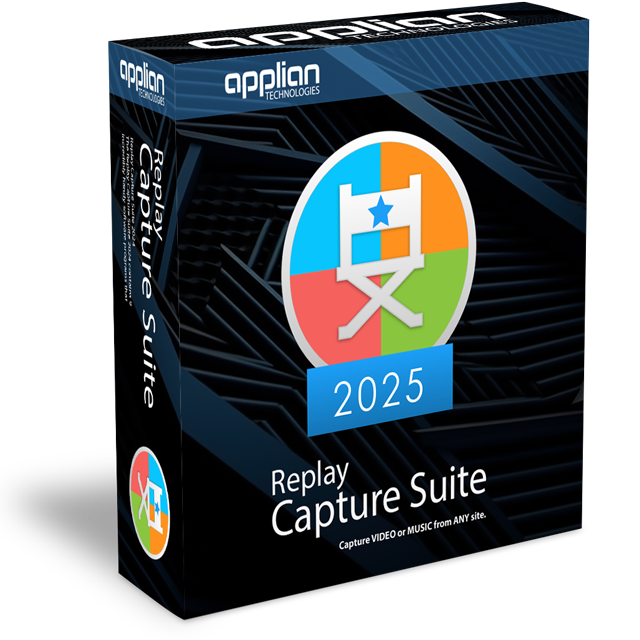 Current Customers:
You're downloading the most recent, fully functional version of Replay Capture Suite. However, please check the
upgrade
page to make sure you are eligible for these latest versions of all Suite software.
Not Yet a Customer? You can download free demos of all programs from the Replay Capture Suite from this page, and try anything you like before buying.
Applian Director: Looking to download just the Applian Director? Here ya go: Download Director.
How to Download & Install the Replay Capture Suite
The Replay Capture Suite includes these programs. Click their names to read more about them:
The Replay Capture Suite installer allows you to choose which programs of the Suite you'd like to install. You can install them all at once or one at a time. It's completely up to you. To ensure a clean install, we recommended that you uninstall any previous versions and re-boot your computer prior to installing the latest versions.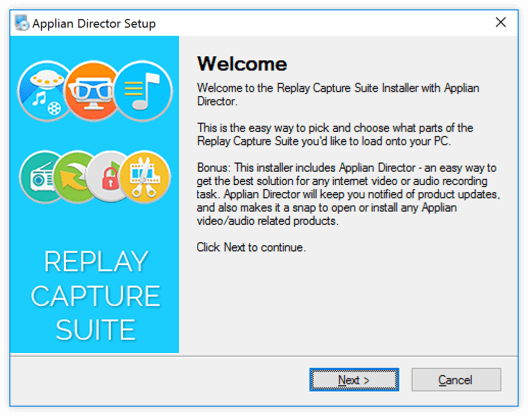 Click the Download button above to download the installer program. It's a very small file and will download quickly.
Run the RCSSetup.exe file to start the Replay Capture Suite installer program. Then click the Next button.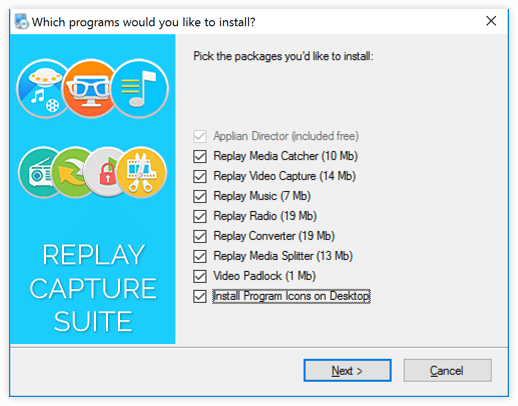 Choose the programs you'd like to download and install now and click Next. You can always come back later and install others at your convenience. Applian Director will be installed by default. This is a free tool that allows you to manage all of your Applian recording software and related tools:
Select the Install Program Icons on Desktop checkbox if you'd like to have all of the individual program icons appear on your desktop. If you're the tidy minimalist type, leave that unselected and you'll have just the Applian Director icon on your desktop. You can open all your programs from within Applian Director.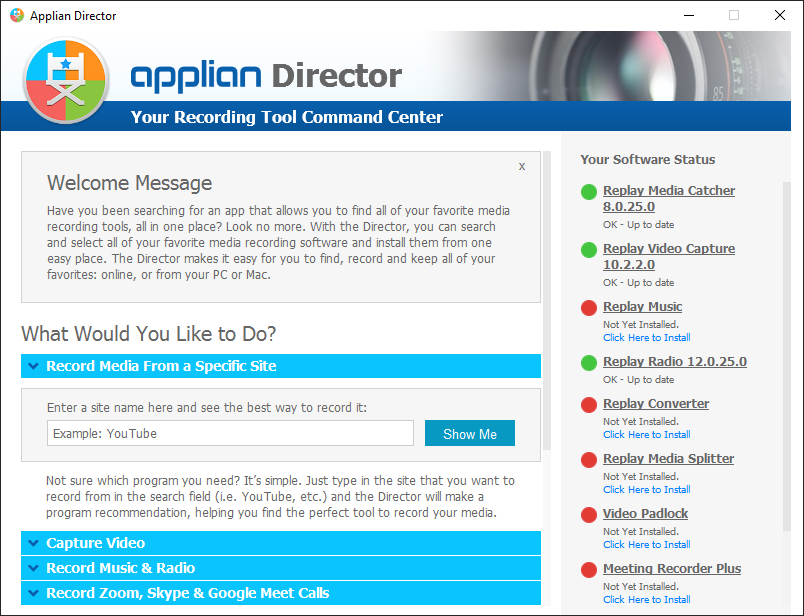 The programs you selected will download and install one at a time. If you're prompted to restart your computer during any one of the installations, click cancel and re-boot once all of the installers have finished. A link to the welcome pages for each program will open in your web browser after the installations finish. Be sure to read those for helpful tips and information about the programs you've installed.
Once the installations have finished, Applian Director will open
Applian Director will guide you in selecting the best tool for the task that you'd like to perform. To open Applian Director again in the future, just click the Applian Director icon on your desktop.

The Applian Director icon looks like this on your desktop
Upgrades
Do I Qualify for Upgrade Deals?
If you already own one Applian product you can get a great deal on the Replay Capture Suite or other products. Click here to find your deal!.
Activation Codes
Lost Your Activation Code? No Problem. Enter your email address below. The activation codes for all products you have purchased from us are emailed to you immediately.
Note: You must enter the same email address you used when ordering the software.
If this form doesn't work for you, please contact Customer Service to request assistance from one of our awesome human beings.
Reset Activation Codes
Occasionally you may need to erase activation codes from your PC to reregister a product. Use the Clear Activation Code Utility for this purpose.